中古 MEYER BURGER 268 #9195920 販売用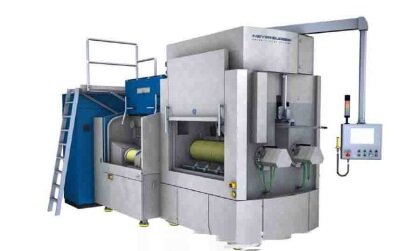 ID#: 9195920
機器の詳細:
Wire saw
Air maintenance unit (media module)
Traversing device (wire tensioning system)
Electric cabinet (control system)
Wire spool (wire tensioning system)
Winder (wire tensioning system)
Wire guide rollers WGR
Slurry nozzles (slurry supply line)
Operating panel (control system)
Movable bearings
Slurry tank (slurry unit)

Workpiece
Cross-section maximum: 210 mm x 210 rrm (0 220 mm)
Length maximum: 960mm (sptl web)
Number of workplaces: 4 x 240 mm
Wafer thickness: 0.100 mm

Cutting feed
Speed: 0.01 - 10 mm/min
Rapid traverse: 200 mm/min
Working stroke: Maximum 265 mm

Wire:
Wire speed: Programmable up to 20 m/s
Wire diameter: 0.100 - 0.160 mm
Wire length (applies to TA 100):
Upto 640 km for wire with 0 0.160 mm
Up to 800 km for wire with 0 0.140 mm
Up to 1100 km for wire with 0 0.120 mm
Wire direction: Forward or reverse cutting
Acceleration: Up to 2 m/s²
Cycle time: Programmable (in forward and backward movement)
Pre-tension: Up to 35 N (depends on wire Ø)

Wire guide rollers:
Roller diameter: 350 mm
Roller length: 1161 mm
(2) Wire guide rollers
Required power: 2 x 75 kW
Special roller bearings
Water-cooled
Horizontal distance between axes: 660 mm

Wire web:
Working height: 1,515 mm
Wire web width: 960 mm, 1,130 mm

Wire deflection rollers:
Diameter: 160 mm
Number: 3 on each side (2 narrow, 1 wide) plus 3 for split web on each side (narrow)

Wire winder:
Spool axis working height: 1,160 mm
MC spool: MB500
Wire length on MC spool: 800 km
Supplier spool: TA 100 and TA 180

Slurry supply:
Tank maximum capacity: 390 I
Recommended filling quantity of slurry: 300 - 320 I (observe clipping!)
Slurry temperature constant at ± 1 °C: 20-27°C (For a cooling water inlet temperature of 12-17°C)
Pump delivery rate maximum: 12,000 kg/h
Slurry density: 1.62 kg/ dm³
PEG300/F600 25 °C
Adjustable
Measured and displayed by mass flow meters

Control system:
SPS control S7 with integrated PC
SIEMENS
10.4" flat panel with touchscreen

Electrical connection and utility:
Maximum connection capacity: 210 kW
Maximum operating power: 165 kW
Mains conditions: EN60204 Part 1 TN-S Transformer connection: Dy Ø
UPS system for PC Integrated

Minimum compressed air quality in accordance
Maximum particle diameter (class 4): 15 pm
Maximum particle density (class 4): 8 mg/m³
Maximum residual oil content (class 4): 5 mg/m³Maximum residual water content 6 g/m³
Pressure condensation point: +3 °C
Inlet pressure: 5.5-8 bar
Average consumption: Approx. 20 m³/h
Maximum consumption (short-term): 20 m³/h
Inside hose diameter 13 mm
Additional consumption with Slurry management membrane pump: Approx. 24 m³/h.

[+] 続きを読む
[-] 閉じる